Procedure for Bachelor's Thesis 
Flowchart of Bachelor's Thesis for CRSSP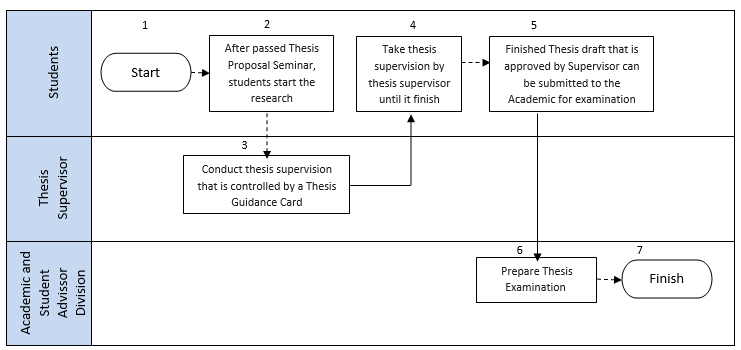 Students who have passed the thesis proposal seminar can conduct research for the thesis;
Lecturers who have received the Dean Decree conduct thesis supervision that is controlled by a Thesis Guidance Card;
Students take thesis supervision by the thesis supervisor until they pass the exam and finish the thesis revision;
Thesis manuscripts that have been approved by the supervisor are submitted to the Academic and Student Affairs Division for approval so that the Thesis Examination can be carried out.
Procedure for Bachelor's Thesis Examination
Flowchart of Bachelor's Thesis Examination for CRSSP
Students register their thesis examinations in the Academic Division by submitting all the requirements for thesis examination registration. The registration will be recorded in the Thesis Registrant form;
Students ask for additional thesis examiners to the Head of Department/Chair of Study Program through the Department Secretariat/Study Program Secretariat;
After all the examiners team have been selected, Thesis examiners team decree will be issued;
After the decree is issued, the Academic Division will make and sends (1) Thesis examination schedule; (2) Memo for thesis examiners team; (3) Thesis examiners team decree; (4) Letter of thesis dispatchment; (5)  Thesis draft to thesis examiners and Minutes of thesis examination form;
The thesis exam schedule will be announced by the Academic Division on the bulletin board;
Thesis exam will be prepared and carried out in accordance to the schedule determined by the Academic Division;
Thesis examiners fill in the thesis examination attendance list and grade the thesis examination;
After the thesis examination is finished, the examiners announces the results of the thesis examination and the revision note of the thesis;
Students make a thesis revision statement and make revision to the thesis until it is approved by all examiners.
The requirements for submitting a thesis examination registration are:
Examination Submission Letter to Dean;
Thesis Examination Approval Sheet;
Submit thesis as many as the members of the examiners team;
Submit the latest photograph (4 × 6) 2 pieces;
Submit transcripts that have been printed by academics division;
Submit a photocopy of the Student Card;
Submit a photocopy of high school diploma
Submit Bachelor's Thesis Proposal Seminar Approval Letter
Submit a copy of TOEFL certificate (as substitute for English courses);
Submit a copy of the Success Skill Training Certificate (for batch 2008 and beyond);
Submit a publication manuscript that has been approved by the thesis supervisor;
Submitting Additional examiners from the Chair of the Study Program;
Submit a grade removal application or statement to not delete the grade (if nothing is deleted);
Submit printed KRS from the last semester (online);
Submit stamp seal (6000) 1 sheet;
Registered in the last semester (attach proof of SPP and BOP payment).